New York Marathon is Tomorrow!
Tomorrow (Nov 2, 2008) the New York City Marathon, aka the ING New York Marathon, will kick off at around 9:10am to 9:40am or afterwords depending on the wave/corral you are in. As an interesting bonus about the race, daily saving time will take place on the same day (at 2:00 a.m.). So these runners will get an extra hour of sleep, rest or stretching prior to the race.
The New York Marathon is usually quite a big run, with 100,000 people entered this year alone.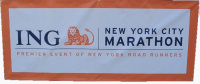 There is also $600,000 in prize money give out to finishers. So as you could expect there will be many world class athletes competing not only for the cash but for the competition and the prestige of the New York Marathon.
This year the race will also be shown nationally on NBC Sport at 3:00 p.m. And alternatively you can also watch the marathon live through the Internet on NBCSports.com or UniversalSports.com