Sticker Photo
The sticker is 2"x4" in size and has a self adhesive backing.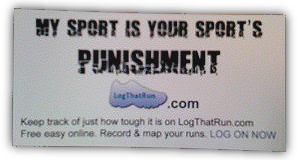 Photo of sticker 2"x4".
The Text on the Sticker Reads as Follows
My Sport Is Your Sport's Punishment
LogThatRun.com [logo image]
Keep track of just how tough it is on LogThatRun.com
Free easy online. Record & map runs. LOG ON NOW.
Get This Sticker For Free
Get this sticker for free if you link to our website. Place a link anywhere on your website or your page on a social media site like facebook, myspace, a blog, ect... and we'll send you this sticker for free. We'll even pay the shipping! Simply
email us
your mailing address and where you linked to our site.